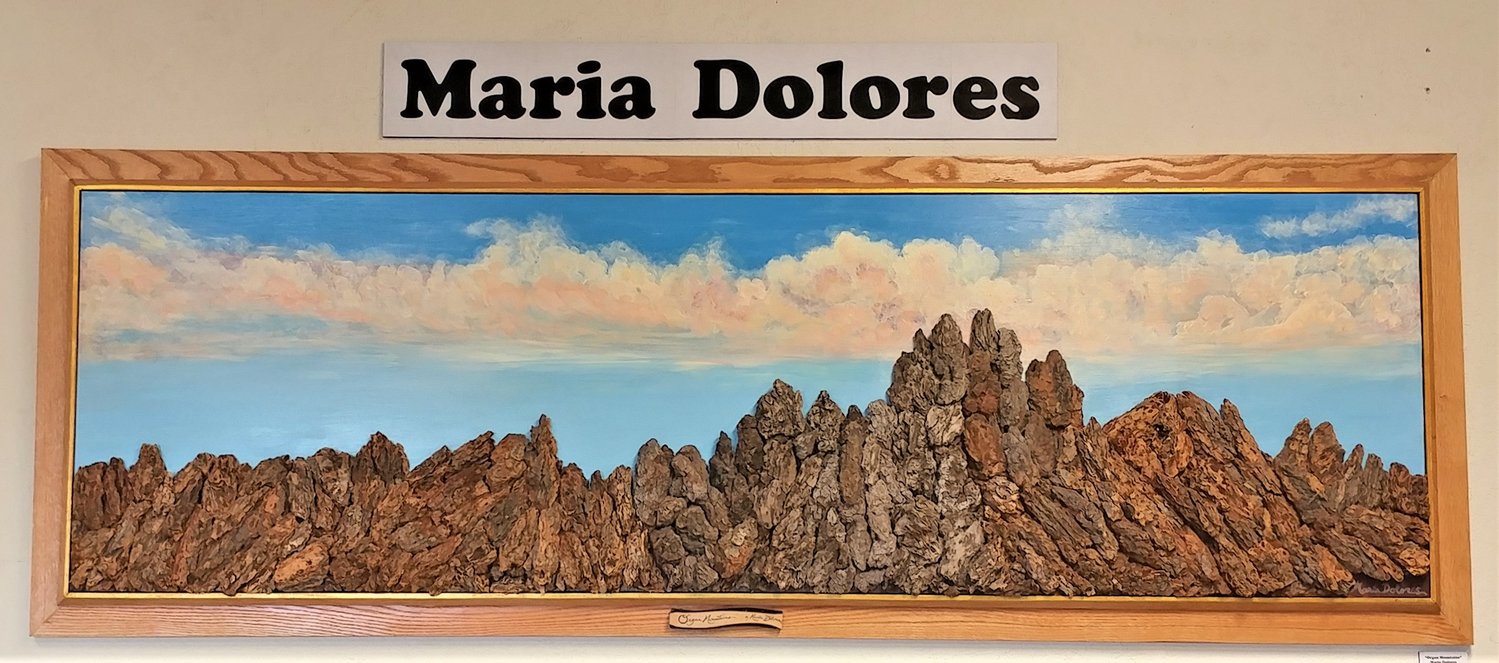 The artist Maria Dolores opens the show of the "Month of love of art"
By Mike Cook
"I never dreamed of being an artist," said Maria Dolores, who began taking art classes in the mid-1990s after retiring as sales and marketing director for the Hilton Inn in Las Cruces.
"I really got into it," said the entertainer, who goes by his first and middle names. (His surname is Neukirch. Hush.)
Originally from New York, Dolores will celebrate her 38th birthdayand birthday in Las Cruces in April.
She studied with some of the best art teachers of the last quarter century, including Sally Quillin, Fred Chilton, Joe Ireland and Jan Archey.
Dolores has had exhibitions at the Thomas Branigan Memorial Library, Cutter Gallery, Doña Ana Arts Council (DAAC), and Frame & Art Center. She has donated artwork for an Open Doors Art Auction to benefit the Jardin de los Niños child care program, presented her work at the 2019 Holiday Pop-Up Art Show and presented works of art to Salud! de Mesilla – a seven-foot door turned with a depiction of the organ mountains in acrylic and woodchip – when the restaurant opened, and at Bank of the West.
During her DAAC show, Dolores participated in an online auction, selling the five pieces she had offered.
She sold eight pieces during a 2021 show at the Frame & Art Center, with one customer buying six pieces and one sale coming from one requested piece after the show, Dolores said.
"I'm still in shock," she said, adding her deep gratitude for the galleries and other businesses and art lovers around the world who continue to support her work as an artist.
It's no wonder Dolores is hosting another exhibit at the Frame & Art Center, 1100 S. Main St., Suite 208. Her work will be featured there in February, during Art Love Month in Las Cruces. and Mesilla.
Dolores' show opening reception will be held from 1-3 p.m. on Saturday, February 5 at the Frame and Art Center. Due to the pandemic, no refreshments will be served.
Dolores mainly paints in watercolors and acrylics. And, though she's an animal lover — she shares her West Mesa home with two dogs, ages 11 and 13 — Dolores doesn't have a favorite subject.
"If I see something that excites me, I paint it," she said.