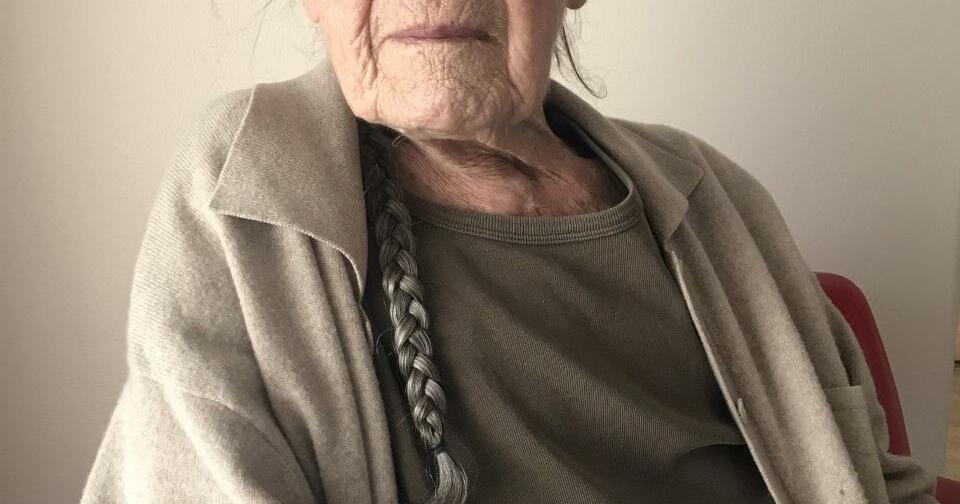 The artist liked to paint water scenes | Local News
No wonder people keep asking Lynn Dimond Mobley if she was the daughter of Georgia O'Keeffe — or even Georgia O'Keeffe.
As she got older, Mobley, a visual artist in her own right, developed the same shriveled face, questioning eyes and wry smile that O'Keeffe was known for.
The Santa Fe resident died earlier this month after a battle with cancer, her daughter, Tracy Mobley-Martinez, said. Mobley was 82 years old.
Born June 22, 1939 in Portland, Oregon, Lynn Dimond moved with her family to Lafayette, Ind., a few years later, where she grew up. She may have nurtured her love of water there, as she enjoyed frolicking in the ravines and streams near her home, her sister, Eleanor Haines, said.
Haines said her sister probably fell in love with water for the same reason "why anyone in the Midwest loves water — because you don't see much of it."
She said her sister had developed a yen for horse riding, drawing and painting at a young age, and had taken art classes since childhood.
Later, Mobley studied English literature at the University of Colorado at Boulder and wrote for the college newspaper, Haines said. But she wasn't sure her sister wanted to be a writer.
"I don't think she had pretensions [about writing] when she was a kid," Mobley-Martinez said of her mother. "There was no 'God, I have to be a writer.' "
While at the University of Colorado, Dimond met and married Jack Mobley, whom she later divorced. The two had their only child in 1962. The family moved across the country over the years, including stops in Georgia and Florida. She lived in Florida on and off for decades.
Mobley-Martinez, publisher of The New Mexicans Pasatiempo magazine, said her mother painted occasionally throughout her life, selling her acrylic paintings and pottery. Mobley had a fondness for painting beach scenes, seascapes, and other subjects near and on water. She also painted sunsets, animals, and desert landscapes reminiscent of New Mexico landscapes.
She first visited Santa Fe as a child on a road trip with relatives, Haines said. This visit encouraged the love of travel. Unsurprisingly, the earthling who rarely swam but loved painting the ocean often took cruise vacations.
Longtime friend Christy King, who knew Mobley in Florida, said the artist often strolled the beaches and boardwalks near her home, snapping photos of the ocean. Sometimes she painted from those photos, King said.
"She loved the tranquility the ocean brought her," she said.
She described Mobley as an "independent" woman who helped her through her own divorce and started her own landscaping business.
"Her spirit helped me become the woman I am," King said.
Mobley-Martinez said her mother was not a sentimental person. When Mobley-Martinez was in fourth grade, her mother painted a portrait of her wearing an elephant shirt. Years later, Mobley-Martinez asked her mother what had happened to the painting.
"I painted on it," she says.
Besides his daughter and sister, Mobley is survived by one brother, Bob Dimond.