Tatura's Jacob Dedman takes second place in Photographer of the Year award
What started as a hobby using a point-and-shoot digital camera soon turned into two mirrorless DSLRs for the trip to all the scenic spots Jacob Dedman visited.
Jacob, 17, from Tatura, is the mastermind behind Digital Journey Photography, his online photography business, which allows him to seize every opportunity possible to get the perfect shot.
Kind of like spending 10 to 15 hours – or as her mother Cheryl Dedman would say, more like 20 to 30 hours – on hand to capture her winning entry in the junior category of australian photography magazine photographer of the year award.
The prized photograph tells a story of its own, but in 1000 words, Jacob recalls that the photo was taken in a less than ideal situation.
The Dedman family were ready for a holiday in Western Australia in July last year when the night before state borders closed, leaving the family to spend a holiday in South Australia.
Jacob said the family was fine for about five days before borders also collapsed in South Australia, but in retrospect the tight restrictions had an upside.
"We are coming into the caravan park and a railway line is right in front of the caravan park, I saw it and immediately thought, great photo opportunities there," he said. he declares.
The day began as usual for the photographer, rising before dawn to capture the serene lighting.
"I was just taking pictures of the train cars in the industrial lot, and I was like, 'why don't I get on them?' Because a person makes a really good focal point in a photo and that can make the photo," he said.
The self-timer went and, with over 200 images taken, Jacob said one photo in particular stood out and "just worked".
"It really reflected how things were at the time, the next chapter of 'where do we go now? ", That's what I called it," he said.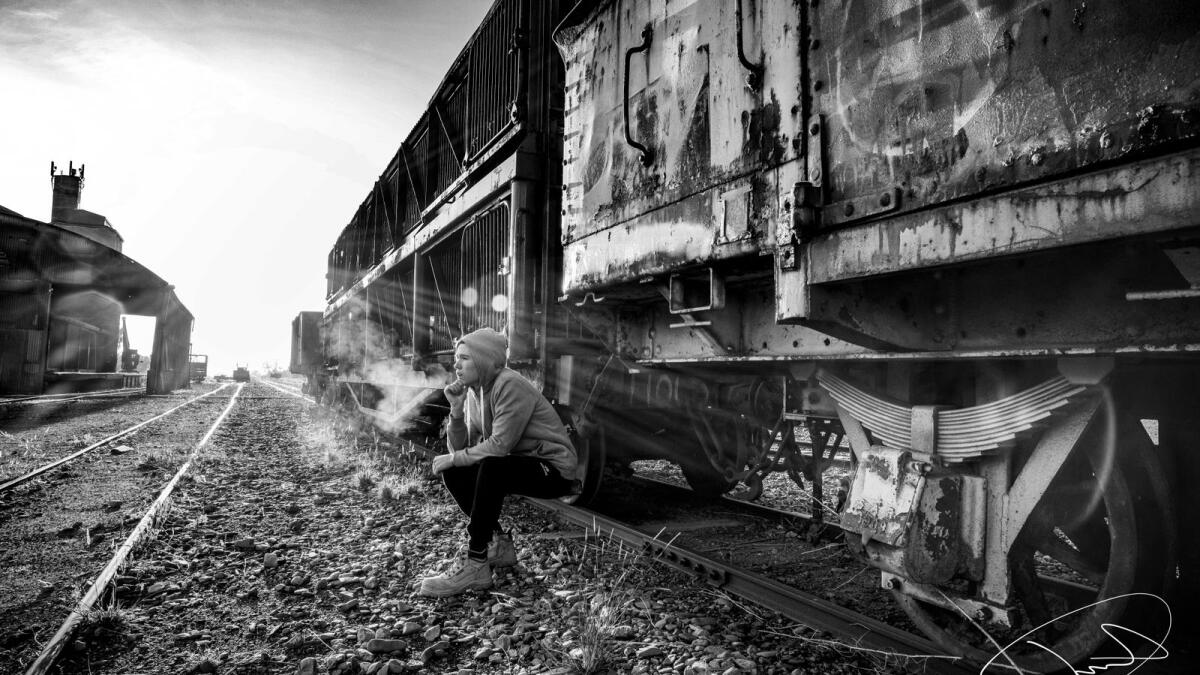 The monthly photography magazine reaches a national audience and has received over 3,000 entries for the awards; Jacob also entered the top 30 in the Black and White category.
With runner-up status, Jacob won a $200 Camera House voucher to use towards his growing collection of gear.
The placement in the competition came as a shock to Jacob and his parents, only revealed when opening a copy of the magazine.
"I couldn't bear to watch, it was just very suspenseful, wasn't it? As soon as he showed me, I was, you could say, ecstatic," Ms Dedman said.
"We were so proud and really happy that Jacob's work was recognized."
Self-taught in addition to an online course, Jacob said he learned his craft by doing, reading and writing about his work, and through home schooling he had the chance to grow further. his practice.
A support network also aided early morning awakenings and scenic getaways, rooted in finding the optimal scenic location.
"He always had a creative way of seeing things differently, always highlighting something that I never would have noticed, and it showed in the places we went as well," Ms Dedman said.
"So I saw it was a great way to connect him to his education, I started to revolve his schoolwork around his photography."
The image 'where to go now?' encapsulates the 17-year-old's ever-evolving photography style and dedication to art.
He hopes to continue to grow as a photographer and teach others through his YouTube channel.
"I think I've probably borrowed all the books in Victoria Library on photography," he laughs.
"I would like that to be my career, and that's what I want to keep aiming for."
To keep up to date with Jacob's journey, visit www.digitaljourneyphotography.com or Digital Journey Photography on Facebook and Youtube and @djphoto2004 on Instagram.