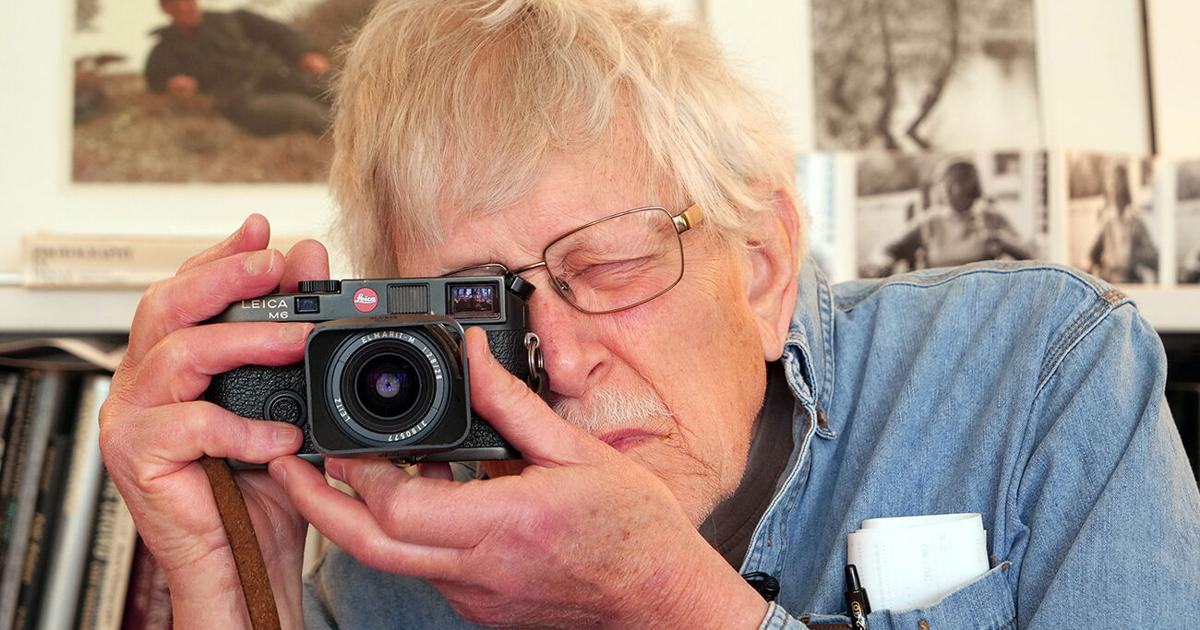 Photographer James Barker named 2022 Rasmuson Foundation Emeritus Artist | Latitude 65
Documentary photographer James H. Barker of Fairbanks is the Rasmuson Foundation's new 2022 Honored Artist. The award, which includes a $40,000 endowment, honors a lifetime of creative excellence and outstanding contribution to the arts and culture of the state.
Barker is the 19th Alaskan named by the Rasmuson Foundation as a Distinguished Artist, and he is the first photographer to receive this honor. According to Rasmuson, Barker has spent his life creating work described as "emotionally moving, accessible and revealing."
Baker, who is known specifically for his extensive work with Alaskan Native people, is surprised that people even know who he is.
"My work isn't really known to a lot of people," he said. "And so, I just didn't imagine that would happen."
"It was a real surprise," added the Fairbanks resident. He said he and his wife, Robin, did not expect the honor at all.
In 1965 Barker was employed by Washington State University as a research photographer.
"I was photographing hydroelectric dams, that sort of thing," he said.
His work unexpectedly led him to photograph the civil rights march from Selma to Montgomery in 1965, and it was then that Barker realized his true passion was photographing people, not machines.
He was already leaning in that direction. In 1965 he organized an exhibit at the San Francisco Museum of Art about the redevelopment of the area and how it affected the people there. His first major ethnographic project was to open up a family of 11 living on welfare.
"I thought, wait a minute, I need to know more, so I got a degree in anthropology," he said.
But it was a trip to Bethel to visit his older brother that changed the direction of his work.
"I decided, well, I wanted to move there," he said. "Just because of the extraordinary native population there. I moved there in 1974.
It was also where he met his wife, who moved to Bethel from the East Coast.
From there, his life's work really began. Barker's extensive portfolio of southwest Alaska forms the core of his work. He has photographed everything from steam birth to Russian Orthodox Slaviq, to ​​salmon processing and public gatherings. The prints that emerged from his darkroom create visual history for books, homes, museums, galleries, public service pamphlets and state buildings, according to the Rasmuson Foundation.
"His photographs are visual vignettes, capturing intimate moments that we normally never share," said Diane Kaplan, President and CEO of the Rasmuson Foundation. "Whether he takes us on a seal hunt on the Bering Sea or a research trip to Antarctica, he finds beauty and reveals something universal in us all."
In 1987, he moved to the Interior and taught photography at the University of Alaska Fairbanks.
His photographs of Yup'ik dancing over the decades have become the award-winning title "Yup'ik Yuraryarairt/Yup'ik Ways of Dancing". Another book, "Always Getting Ready/Upterllainarluta," written with Robin, fell into the hands of President Bill Clinton, a gift from the Federation of Alaska Natives. Twice the National Science Foundation accepted Barker into its Antarctic Artists and Writers Program, and these photographs have long been on display at McMurdo Station. Selma's early photographs landed at the Rosa Parks Museum and the Steven Kasher Gallery in New York.
Barker also received the Governor of Alaska Humanities and Lifetime Achievement Awards from the Cama-i Festival and the Alaska Press Club.
Recognition is part of the Rasmuson Foundation Individual Artist Awards. The remaining 2022 awards – 25 project awards and 10 scholarships – will be announced in the fall. Winners are selected by a panel of Alaskan artists and art experts.