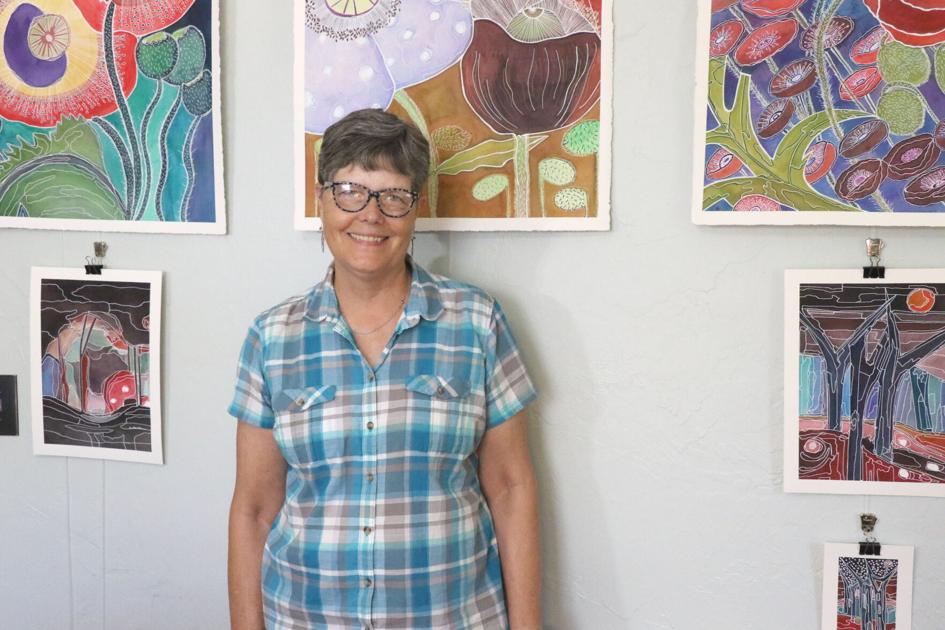 Norman artist favors the herbaceous flower in his work | New
[ad_1]
Poppies are an integral part of the real world. In the art created by Leslie Waugh Dallam, flowers appear in dozens if not hundreds of surreal, otherworldly, and highly stylized manifestations.
They inspire the Norman artist in a way hardly rivaled by the ethereal hummingbird, secluded mountain streams and majestic ancient oaks. Some of these muses are hundreds of miles away and others are right outside his window. Dallam explained his infatuation with the showy flower, the varieties of which display almost every color.
"Poppies are so delicate," she said. "They remind me of little girls' petticoats. They are so fragile and beautiful. They should be photographed on the first day of flowering as they wither. "
It's her favorite flower, and she plants them every year by simply scattering their seeds on the cold winter soil. Later, they become the subjects of watercolors, collages and drawings.
Dallam's parents were artists and his twin sister, Carla Waugh, also of Norman, is an artist. All were artistic educators. Dallam and Carla Waugh are retired from teaching art in the Norman public school system.
"We were exposed to art when we were little and took classes at the Philbrook Museum of Art in Tulsa," she said.
At the moment, Dallam is able to devote as much time as she wants to artistic creation.
"Right now I'm trying to take pictures of my daughter's chickens," she said. "I'm also working on a forest series based on a photo I took. Usually I refer to photographs in my art.
She frequently uses a white ink pen to add noticeable accents and details. Dallam often travels with her husband in search of muses in nature.
"We went to the Buena Vista, Colorado area where we are climbing the mountains in jeeps," she said. "It's so beautiful beyond the tree line, and I think that's what started to make my art reflect nature. The rivers, streams, pines and aspens are simply magnificent. I started a series of forests which are collages with tiny little trees cut by hand. I am obviously not a realistic artist.
Back issues of National Geographic Magazine are his friend. She cuts out the pages and reuses them in art. Dallam also used wrappers of chewing gum that his high school students threw away. The lids of the soda bottles and the sleeves of the coffee cups have been put into operation. She uses Mod Podge glue and sealer to transfer the colored ink from discarded magazine pages to other surfaces. Color and texture are prominent in his work.
Dallam is a cyclist, and sometimes bicycle equipment appears in the pictures. Human figures sometimes appear. The division of time between Colorado and Oklahoma offers a significant inspirational contrast.
"I have become a seasonal person, because I will be drawing acorns and cardinals," Dallam said. "The oaks around our house are between 60 and 70 years old. Between them, Colorado, my bird feeders, hummingbirds and poppies, it all comes together.
Dallam's 36-year career as an arts educator spans the last 17 years at Norman High School. She has also taught Lawton, Moore, Seminole and Tecumseh. Spouse's military career took them to Washington, DC, for a time.
"Watching kids in advanced placement classes inspired me," said Dallam. "They were amazing, as well as a class at Quartz Mountain (Oklahoma Arts Institute), which included the motivation of the best art teachers in Oklahoma. Carla and I did this at 50 years old. "
Dallam is a prolific artist and markets her work in OKC's Paseo Gallery One and Norman's Yellow Dog Coffee Company. She is active in the Oklahoma Visual Arts Coalition and received the Professional Basics Grant Award 2018.
She frequently works on commission and has exhibited in Norfolk, Virginia. A 2019 show was at The Vault in Pauls Valley. She is excited about Norman's art scene and loves being a part of it.
"I think Stash kind of paved the way," said Dallam. "All the art and places on Main Street have really come a long way. It is quite impressive.
[ad_2]