National Geographic 'Photo Ark' photographer adds Minnesota species to list of 12,400 – Duluth News Tribune
DULUTH — National Geographic photographer Joel Sartore recently took a detour from his cabin near Deerwood to visit the Great Lakes Aquarium.
This is where he was able to scratch several other species during his life mission called Photo Ark, a massive collection of photos of living creatures from all over the planet.
"I've wanted to go to Duluth since before COVID hit and finally found the right time. They have a really unique collection of freshwater species," Sartore said of the harbor aquarium. "There is a lot of attention around the world on large saltwater species. …but much less about freshwater species that most people have never heard of.
Take for example the spoonhead sculpin, a small Lake Superior fish that doesn't attract much attention, but which Sartore photographed in Duluth. And the sea lamprey, a grotesque, blood-sucking, terribly invasive species of fish from the Atlantic Ocean that nearly destroyed the Great Lakes ecosystem. But it's still a living creature, and thanks to the aquarium exhibit, another tick on Sartore's goal of photographing 24,000 species for his colorful electronic library of vast but dwindling global biodiversity.
Sartore has been working on the collection since 2006, beginning with a photo of a naked mole-rat cub at the Lincoln Children's Zoo in Lincoln, Nebraska. It now has over 12,400 species. He thinks it could take him another 15 years to complete.
His photographs focus on creatures that are in the hands of man – places like zoos, aquariums, rehabilitation centers and research centers, or even birds banded by scientists. This allowed him to achieve studio-quality portraits of many species. But he will also photograph animals, insects and other critters in nature whenever he has the opportunity.
"Big or small, I love them all. … It may not be obvious to us, but they all have a role to play in the ecosystem," Sartore said. "During COVID, when we couldn't travel far, I spent the better part of a year photographing 1,000 species of insects" across the Midwest.
The aquarium isn't the only place in Minnesota where Sartore has found his subjects. He photographed many animals at the Wildlife Rehabilitation Institute of Minnesota in Roseville and documented many species of freshwater clams, or molluscs, at the Minnesota Department of Natural Resources Center for Aquatic Mollusk Programs in Lake City. He has photographed captive wolves at the International Wolf Center in Ely, but also wild wolves in the Upper National Forest and countless creatures around his cabin in Crow Wing County.
"I'm still looking," he said.
Since COVID restrictions eased, Sartore is back across the globe most of the time now. He was in the United Arab Emirates in February, in Duluth in March and will soon be on his way to Israel, Morocco, Egypt, Germany, Belgium and the Netherlands in early summer. He has already visited 60 different countries to take pictures.
While endangered species garner much of the public attention on Photo Ark – from magazine articles and TV shows to National Geographic specials and even Sartore's appearances in a movie and soap opera. – Sartore says he tries to photograph everything, even if it's common and flourishing.
I hope my photos will inspire people. I want to show them, this is what we share the planet with. Isn't it amazing? Isn't it worth saving?
Joel Sartore
His goal is not just to have photos of the creatures for people to mourn when the species becomes extinct, but to inspire people who see the photos to take action now – do something to help conservation. wildlife and habitat, to improve the natural environment at present.
"I don't want this to be a big continuing obituary of what's dying. I want this to be an index of what's still alive. Not just charismatic big megafauna like wolves, grizzly bears, whales and tigers, but also small creatures like bats, butterflies, birds and bees," Sartore told the News Tribune. "I hope my photos will inspire people. is that what we share the planet with. Isn't it amazing? Isn't it worth saving?
This action could be as simple as avoiding the use of pesticides in your garden to protect sensitive bees and butterflies. Or it could mean joining a group that supports habitat conservation.
Extinction Inspiration
Sartore, 59, grew up looking at photos in his mother's Time Life picture books. One image that came to mind was a photo of Martha, the world's last passenger pigeon. With Martha's death at the Cincinnati Zoo in 1914, the passenger pigeon, which once numbered in the millions, disappeared, thanks to habitat loss and unregulated hunting. Sartore said he just couldn't understand how humans could allow this to happen, for a species to drop from millions to zero.
That sense of avoidable loss sticks with Sartore today, and that single photo helped inspire a career.
Sartore grew up in Ralston, Nebraska, and graduated from the University of Nebraska-Lincoln with a degree in journalism. He worked at the Wichita Eagle newspaper for six years before deciding to focus on freelance photography.
Sartore lives in Lincoln with his wife (they have two adult children) and noted that the family vacationed for years at a fishing lodge on Leech Lake near Walker, Minnesota. When the place was sold and divided into vacation homes, the family decided to buy their own cabin near Deerwood, just east of Brainerd.
"We go up there a bit. … We can get there from Lincoln in about an eight-hour drive," said Sartore, who likes to fish for fun when he's not taking pictures of fish. "Northern Minnesota is so special."
Sartore started the Photo Ark project, among other assignments for National Geographic and other magazines, after his wife was diagnosed with cancer. She's been in remission for years, but her illness and her own encounters with peril on the pitch have left her wanting to leave a more lasting legacy. That's what he hopes Photo Ark will be – an enduring legacy of wildlife conservation, like John Audubon's paintings of birds, still admired almost 200 years later.
Sartore's work is seen by millions of people every day in print, on television and on social media. His Facebook page has nearly 700,000 followers and his Instagram page has 1.6 million followers. His work is also often featured on National Geographic's Instagram page which has 212 million followers worldwide. This litter gives her hope.
"We can get the message about these species to so many people on social media," Sartore said.
This message is not political, he insists. That people want to keep the overall ecosystem of the planet functioning, in some sort of balance, to save as many species as possible, is clearly in everyone's interest.
"Because we don't know when, when we lose a certain percentage of other species, that becomes the tipping point for us, for our survival," he noted. "Saving other species is saving ourselves."
Go to
to see the more than 12,400 species Sartore photographed for Photo Ark. You can buy prints, buy photo books, or even hire Sartore to speak at an engagement.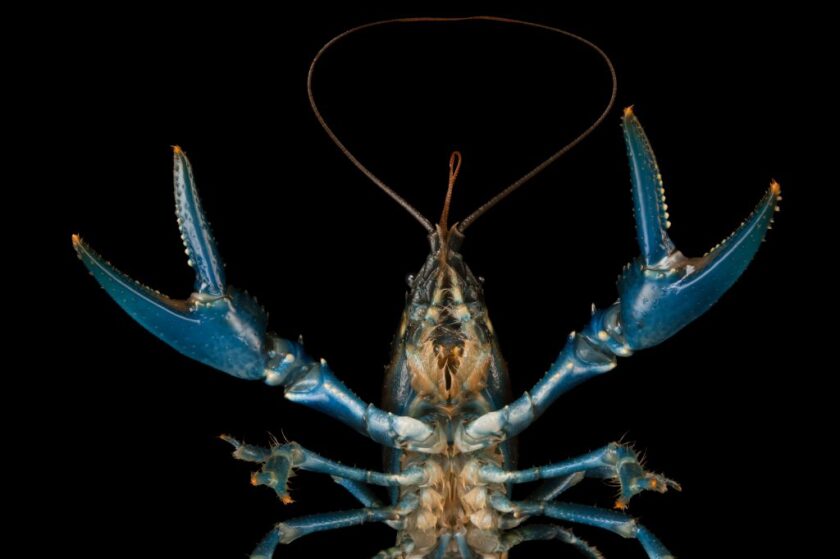 The International Union for Conservation of Nature estimates that some 41,415 species of plants and animals are endangered, including 16,306 threatened with extinction.
According to the World Wildlife Fund, the rapid loss of species we see today is estimated by experts to be 1,000 to 10,000 times greater than the rate of natural extinction, the rate before humans began to have a disproportionate impact on other species. Experts calculate that 0.01% to 0.1% of all species disappear each year. Of the approximately 2 million species on the planet, this means between 200 and 2,000 extinctions occur each year.
John Myers reports on the outdoors, the environment and natural resources for the Duluth News Tribune. He can be reached at
.