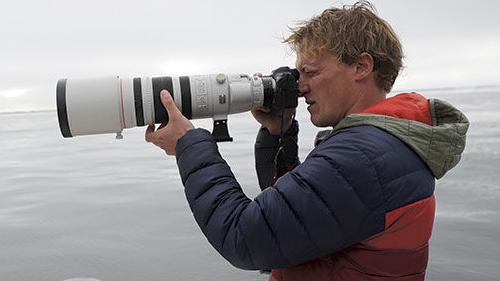 Monterey photographer Ralph Pace's powerful animal images have won him a major international award. | Face to face
[ad_1]
For Ralph Pace, the photography journey did not start with a love of images but a love of the ocean. He graduated with a graduate degree in marine conservation from the Scripps Institute of Oceanography, spent time in Costa Rica saving sea turtles. In Escondido, Mexico, he successfully advocated to stop a marina project that would have ruined a mangrove lagoon – critical nesting habitat for sea turtles – by demonstrating the economic value of a surf spot.
It was at his brother's urging for a camera that Pace started and found a way to increase awareness among people on land about his love of the ocean by capturing extraordinary images of the sea. based in Monterey, but his freelance photojournalistic work regularly takes him around the world, with trips to Mexico, the Caribbean, Chile, Hawaii and more.
Pace is also a winner of the World Press Photo, a prestigious global competition which awarded him in 2021 with a first place in the environmental category, for a local image taken at Breakwater Cove in Monterey. The image shows a sea lion in murky water, swimming curiously straight towards a floating face mask – a powerful representation of the intersection of the human and wildlife realms during the pandemic.
On a recent hazy day in September, Pace was using a Canon R5 with a powerful telephoto lens to capture whales coming to the surface of Monterey Bay. He spoke with the Weekly on wildlife behavior and its work with the media, sea-based nonprofits and government agencies.
Weekly: Your first love was not photography. How did you get into it?
Rhythm: I didn't really want to do it, but a lot of people were encouraging me to do it. I was doing graduate studies, I was doing this project on saving a bunch of habitats. I was interested in how you can give a community tools on how to save things and the environment. I kept telling everyone that they would ruin this beautiful habit. "What is beautiful?" they would always respond. My brother is a photojournalist and he sent me a camera; I went to take some pictures.
The roots of your career are in conservation. What was this pre-photographic era like?
It was a really fun time. I love being a field biologist, but in the end I should have gotten a PhD. and you don't work as much outside. It was amazing and it was really important for photography because I learned to understand animals, conservation issues and the science behind saving species.
How do you link photography and conservation?
At the heart of all conservation problems there is just a human problem. It's really easy to go out and take a picture of a dying animal, but you have to be able to show how it connects to humans.
What was it like when you found out that you had won the World Press Photo?
Oh, that was amazing! I never planned that. Growing up I would watch these "Wildlife Photographer of the Year" winners just to see them – it's amazing what people document. It's really educational.
It gave me the impression of coming out of the impostor syndrome a bit; when i made the change [to photography] I told myself that if I couldn't become a photographer, I would go back to science.
The photo that won is such a powerful moment to capture this marine mammal with its big eyes interacting with human trash. Did you know you had something when you took it?
I was looking for jellyfish. But it had rained the night before, so the water was really dirty – and there were no jellyfish. I swam to the end of Breakwater [Pier] and sea lions were playing.
I was actually going to call diving and I was swimming when I saw sea lions diving, playing with something – the ropes hanging from a mask. I thought, this is important. Right now I'm thinking, "I hope it's on point and not messing it up." I was trying to balance my closeness and there wasn't a lot of light.
Then I grabbed the mask and swam inside. The one I thought was the photo, the flashes didn't shoot well. I got home and didn't look at the rest of the photos for over an hour. And I got one.
[ad_2]