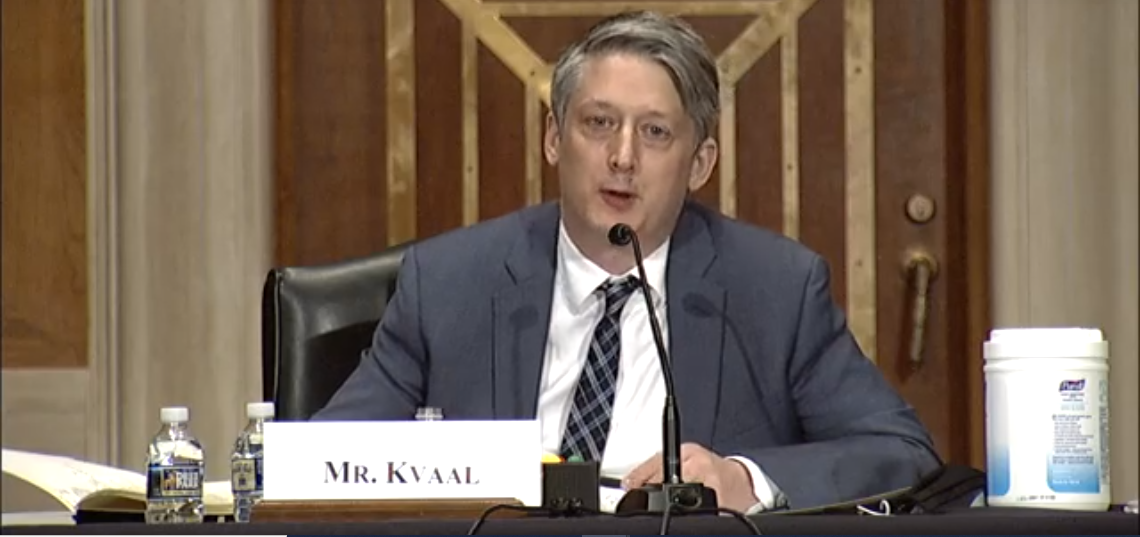 Ministry of Education proposes changes to student loan rules
The Department of Education on Wednesday released a series of proposed rules that would simplify federal loans, to make it easier for students who attend fraudulent colleges or are public service employees to get loan forgiveness.
The proposed rules include changes to the Borrower Defense Program and the Civil Service Loan Forgiveness Program, both of which have been criticized for being overly complicated and having lengthy application and review processes.
"This announcement is part of the administration's ongoing commitment to making the student loan program work. They are the product of more than a year of effort to solicit input from the student aid community and strong proposals that will better serve students and hold institutions accountable," said James Kvaal, under -secretary for education. "The proposals would also help prevent a future debt crisis by holding colleges and universities accountable for leaving students with unpaid debt and without good jobs."
Proponents see the proposed changes as steps toward improving the overall student loan system to be more efficient and affordable through targeted reforms.
"It sounds like the kind of policy changes we would welcome," said Jon Fansmith, assistant vice president for government relations at the American Council on Education. "They may be smaller or more low-key than the things we often talk about, but these kinds of changes help a lot of students, especially those who have been wronged by their experiences in higher education, to find a way forward. "
Others, however, criticize the department's proposals to increase liability for fraudulent colleges and believe the department is going too far.
Jason Altmire, president of Career Education Colleges and Universities, which represents the for-profit sector, said: 'We believe the department has greatly exceeded its authority in presenting this type of proposal.
The proposed regulations will be subject to a 30-day comment period and revisions to the proposal will be made by the November 1 deadline. The earliest the new rules could take effect is July 1, 2023. Kvaal also said that later this summer an additional set of proposed rules will be announced, including "ensuring student loan repayments are affordable, incarcerated people have access to Pell Grants for high quality programs, holding institutions accountable for inefficient private conduct and creating processes when colleges change ownership.
Defense of the borrower
The department has proposed a set of rules that would simplify the defense of borrowers – the federal program that allows borrowers who have been defrauded or misled by a college to apply for forgiveness of student debt. The new rules would establish clear pathways for applicants through a single, "simplified" application, while creating new accountability mechanisms to prevent such cases in the future by requiring colleges to recover the costs of loan disbursements. These changes would apply to all future and pending claims of borrowers from July 1, 2023.
Additionally, where multiple borrower defense claims are filed against the same college, those claims would be considered as a group, rather than on a case-by-case basis. The department recently issued a group discharge to nearly 560,000 borrowers who attended ancient Corinthian colleges.
It would also create clear new standards for college misconduct that could qualify a borrower for borrower defense, and a new category: aggressive and deceptive recruiting.
The for-profit sector, which generates the majority of borrower defense claims, is unhappy with the proposed changes and argues that colleges do not have a fair chance to respond to borrower defense claims in a way that guarantees due process.
"This is a clear attempt by the department to weaponize the rulemaking process specifically for a higher education sector," Altmire said.
But Justin Draeger, president of the National Association of Student Financial Aid Administrators, said it was important there was a rule "that balances the need for timely judgment for borrower claims. against schools that deliberately mislead students, and then fairness by ensuring that schools have an opportunity to respond to these allegations.
Under the proposed settlement, the Department of Education would only engage in a conversation with a college during a borrower defense claim if it was trying to recover money. The proposed regulations would also create a clear process by which the department can ask a college to cover the costs of releasing loans for its former students.
Last week, the department announced a settlement that would forgive the debts of 200,000 borrowers who attended more than a dozen colleges that the department says misled students about their programs.
Cancellation of civil service loans
The ministry has also proposed changes to the PSLF that would simplify the application process and create an automatic tracking process for eligible payments and new applications.
The proposal clarifies the types of employees who are eligible for the PSLF, including a provision that would calculate qualifying hours for non-tenured faculty. The proposal would also create pathways for the department to automatically identify and begin tracking the progress of public employees toward the PSLF, where possible.
The ministry has not indicated whether it plans to extend the PSLF waiver beyond the current October 31 deadline. Some advocates hope for a quick implementation of the PSLF's proposed rule so that borrowers making payments on their student loans can count those payments in the PSLF.
Other Proposed Changes
The Ministry of Education has also proposed other changes.
Arbitration: The Department of Education has proposed banning colleges from requiring borrowers to sign arbitration agreements, a common practice used by for-profit colleges during the admissions process that prevents borrowers from being able to participate in a legal action based on their request for defense of the borrower. It would also establish a database within the ministry that would require colleges to disclose when arbitration agreements are used and when borrower defense claims are filed against a college.
Capitalization of interest: The department has proposed to eliminate interest capitalization, where unpaid interest is added to the principal amount of a student loan, from most federal student loan programs, except those that require capitalization of interest by the law. Interest capitalization grows a borrower's loan balance because future interest accrues on principal that has been inflated by the added interest.
Total and permanent disability exits: The proposed rules would establish new ways for borrowers who are totally or permanently disabled to receive loan releases by expanding the scope of disability statuses and eliminating the three-year monitoring period that is used to track loan income. a borrower after release.
Outings in closed college: Students with outstanding federal student loan debt who were attending colleges that were closing would receive an automatic discount as long as they were enrolled within 180 days of the college closing and did not graduate under the rule. proposed. This is a significant change for students who attended colleges that closed but didn't graduate and ended up with unpaid debt.
False certificate: The proposed rules would create a streamlined process for borrowers who were not eligible for federal student loans, but were falsely certified by their college for federal student loans, to receive forgiveness.