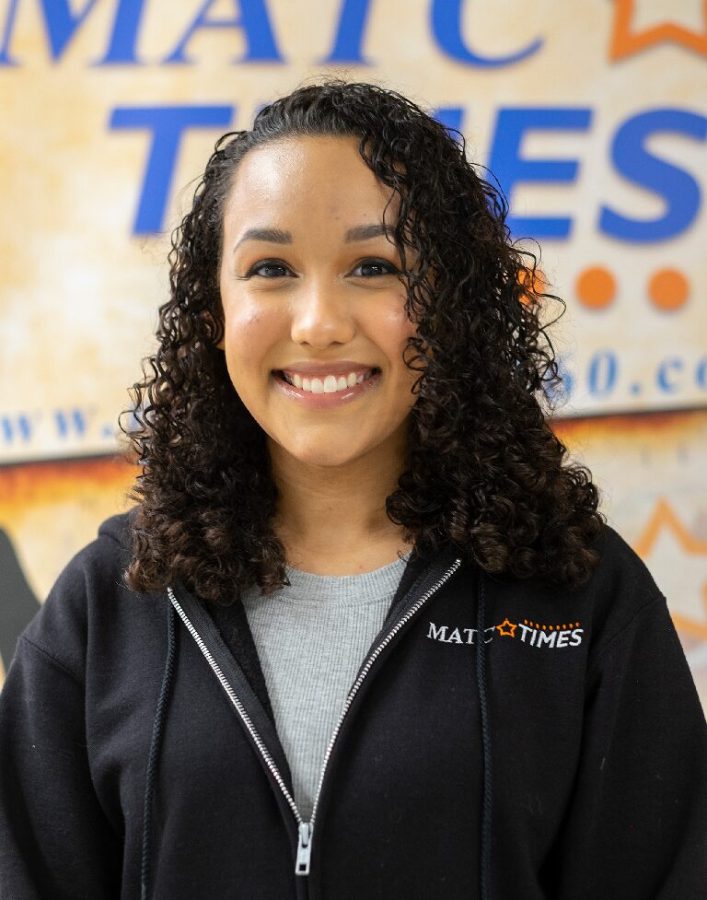 MATC Times award-winning photographer promoted – MATC Times
Andre Harris
time contributor
Victoria Magee
Chief Editor
Note: Originally printed in vol. 61 of the print edition of the MATC Times.
Times editor Victoria Magee has appointed Celine Cotton as the newspaper's photo editor.
Cotton, a sophomore in photography, joined the paper in the fall 2019 semester. "I originally joined The Times during new student orientation," she said. "Victoria had mentioned they were looking for photographers, and in my mind I just thought 'that's me!' Because I was homeschooled, I knew when I went to college , I wanted to fully immerse myself in. I had looked to see what clubs and things were on offer to see if I could get to know people, but there was nothing to do with photography or any of my interests. So The Times seemed like a great idea. She added.
During the school year, Cotton contributed to a multitude of photojournalism assignments, including Perspectives, Portraits and Sports. One of those assignments, "The Fiserv Forum Tour Takes Visitors Behind the Scenes," earned him high accolades in the state. Cotton won honorable mention for photography in the Wisconsin Newspaper Association Foundation's Better Newspaper competition. A great honor considering she was competing against students from four-year schools including Marquette University and the University of Wisconsin.
"I guess I would say it was unexpected." Said Cotton. She adds that she remembers being told her photographs were up for a competition, but she didn't think she would get very far.
"I knew by the time some people get to college, they've been practicing what they're studying," Cotton added. "I only bought my first camera a few months before the start of the school year, so when I was told that I had won an award for my images, I was really surprised. And to be surprised, I was really excited that someone else saw my pictures and completely enjoyed them. It was a bit of a confidence booster," Cotton said.
The photography student feels positive about her new position and expects this year to have good results. Cotton also recognizes the unique challenges due to the pandemic, but sees it as an opportunity for growth.
"The last semester has been stressful," Cotton said. "I know college is hard enough when you're a full-time student, going to work part-time or full-time, and you're also in a school organization of some kind. However, add a pandemic into the mix and it makes things much more complicated. The only advantage I think I have here is that I was homeschooled from elementary to high school, I'm used to an online format for school and I'm used to having a certain level of self-study (I 100% prefer in people classes)," she said.
"With the Times, I'm trying to figure out all the photo editor responsibilities. I think I should be able to do it, I just have to get used to it," she said.
Cotton came to school with a unique background. She was homeschooled from kindergarten to grade 12 and originally wanted to pursue a dance degree at UW-Whitewater. She was also a "dance/choreography" instructor in the Wauwatosa Recreation Department. Cotton is trained in ballet, tap, hip hop and jazz.
Cotton says one of the biggest benefits of homeschooling was her schedule. Stating that she had the opportunity to create her own schedule.
"Creating my own schedule allowed me to do things that people my age (20) usually couldn't do since they would be in class (like teaching dance lessons in the afternoon)" , she said. Cotton says another positive was being able to learn at your own pace.
"If I needed more time on a topic or concept, I could have it, or if I understood that topic or concept quickly, then I could move on. Some days I finished school as early as 10 a.m., while other days I didn't finish school until 6 p.m. I preferred 10 a.m.," she explained.
Cotton says the biggest downside to being homeschooled was socializing. "For some people that aspect isn't great, but I'm a very social person," she said.
After graduation, she plans to become a professional photographer. She hopes to travel the world and photograph her adventures, while being paid to do so.