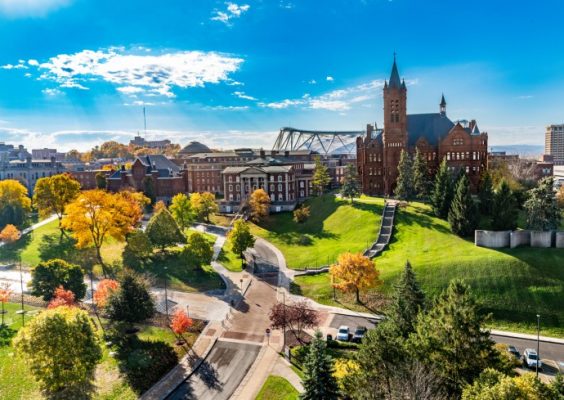 Improve your understanding of DEIA with Spring 2022 workshops
This spring, the Diversity and Inclusion Office is once again offering its Diversity, Equity, Inclusion, and Accessibility (DEIA) educational workshops to faculty, students, and staff. the workshopswhich is on diversity.syr.eduprovide participants with a fundamental understanding of key aspects of DEIA, including fairness and recognition of microaggressions.
Led by Ebony King, Diversity and Inclusion Specialist at the Office of Diversity and Inclusion (ODI), the monthly workshops provide campus members with consistent opportunities to access DEIA education. Previously, sessions were only available on demand.
Last semester, King conducted 23 educational workshops, which were attended by over 1,000 participants. "This academic year, we're focusing on equity, helping people define it and identify where it's present or absent," says King. "Additionally, this semester we want to measure the results of our workshops and have included ways to do so."
ODI workshops include pre- and post-assessment tools to assess improved understanding and knowledge of key aspects of the sessions.
As part of ODI's goal of educating the campus in a progressive way, two new workshops are offered this semester, Moving from Cultural Competence to Cultural Competence and Power and Privilege. the complete list of ODI workshops are promoted alongside other DEIA sessions hosted by other areas of campus to provide a centralized location for campus-wide DEIA sessions. If you, or your region, have DEIA sessions you would like to promote, contact Annice Allen at [email protected]
A key element of ODI workshops is to build the confidence to tackle topics and issues that, while fundamental to DEIA's progress, are difficult to discuss.
Maggie Washburn, Graduate Studies Coordinator in the Department of Psychology, participant in the ODI Fairness in Mind workshop, shared that "participation in workshops and events centered around the theme of diversity not only helped diversify my knowledge base, but also gave me the tools to discuss sensitive topics with my colleagues.
ODI workshops will run until May 2022. Special requests for larger groups or groups that prefer to meet together will be considered based on availability, please contact Ebony King at [email protected] for details.