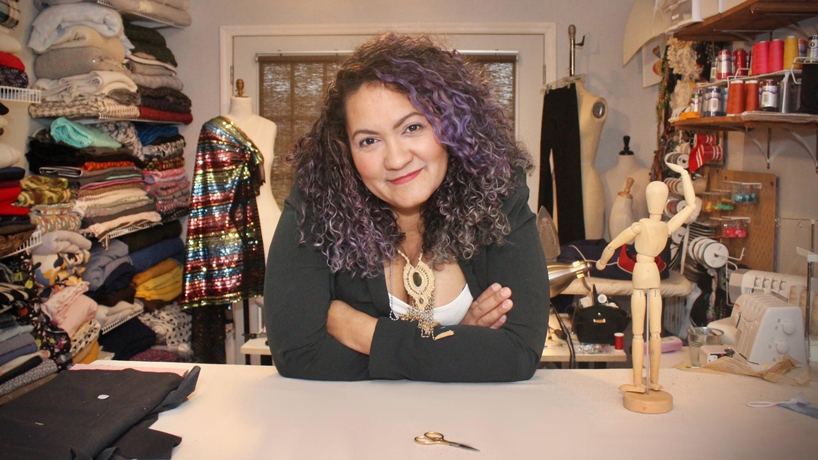 Felia Davenport to exhibit "Torn Mixology" as Kranzberg Artist-in-Residence – UMSL Daily
Since 2018, the Kranzberg Arts Foundation has funded a residency program for musicians, providing residents with administrative support and regular performances in the Kranzberg Halls of the Grand Center Arts District in St. Louis.
This year, the foundation expanded the program from 10 to 15 residents and added writers, visual artists and filmmakers to the mix. Felia Davenport, associate professor of communications and media at the University of Missouri-St. Louis and award-winning costume designer is part of the larger cohort.
As resident artist of Kranzberg 2021-2022, Davenport will develop her exhibition "Torn Mixology". The multimedia project will explore the tension between her multiracial identity and the way society as a whole tries to define it. The exhibition features handmade clothes, or "looks," which represent moments in her life, from times of trauma and fanaticism to the acceptance and celebration of her multiracial identity.
In all, she expects to produce seven looks, each taking around 90-200 hours. Each look will incorporate family photos and personal artifacts into clothing and include a musical element when displayed.
Davenport was excited to develop the exhibit as a Kranzberg resident artist, especially after running into roadblocks while trying to produce the exhibit in the past.
"When I applied for the residency and got it, I was extremely excited," Davenport said. "I was honored that someone was interested in what I wanted to do and saw that it was valuable, and meeting all these other artists was amazing. They are really great people.
Davenport began his journey as an artist working in several mediums.
In her youth, she was a painter and passionate about vintage clothing. The latter encouraged him to learn to sew and restructure clothes to create unique models. Initially, she pursued painting and fashion design as a double major at Virginia Commonwealth University before moving on to costume design, which perfectly combined the two interests.
After earning his BFA, Davenport earned an MFA in costume design from the University of Tennessee-Knoxville. She has designed costumes for theater and dance companies from St. Louis to South Africa during her professional career. Her favorite projects include "Mama Africa the Musical", which took her to South Africa, and the production of "Dirt" by the Modern American Dance Company.
Davenport drew on his black and indigenous heritage to inform his costume design for "Dirt," which is based on respect for the Earth and our ancestors.
"I absolutely loved it," she said. "When I looked at him with the clothes on, it was breathtaking. For me it was good, but it was also connected. "
Part of the idea for "Torn Mixology" came from earlier work such as "Dirt". About three years ago, Davenport began to reflect on his work, which had a strong social justice focus. She decided she wanted to work on something about personal identity that was always linked to social justice.
An interaction involving his daughter, Kaleesi Rose, got the project going.
"It was a comment someone made about my daughter," Davenport said. "I am a single mom and someone commented on my daughter and said I have a white child."
The remark angered Davenport for raising her daughter as a woman of color who can pass for white. Davenport explained that what might be a trivial comment to some had actually erased his daughter's culture and heritage, as well as her family history.
"It made me start to remember how I was treated growing up," she said. "I was told that I was not good enough because I was not pure. I was told that I was not worth anything because I was not pure. I was told that when I said I was multiracial. People told me I was denying my darkness.
This motivated Davenport to create a dialogue through his exhibition "Torn Mixology". She wants to express the idea that words matter and have power. They don't always bounce off people and, in fact, can hurt. She hopes this will encourage people to reconsider their prejudices.
To explore this idea, each custom garment will be displayed on a black and white painted mannequin with a gray stripe down the middle. The stripe represents the gray area in which Davenport has existed throughout his life juxtaposed with the simplistic black and white dichotomy that others have tried to apply to him.
The first piece in the exhibition is the most powerful and explores Davenport's experiences between ages 7 and 10. This period is the start of his trauma as a multiracial person.
"That's why it's called 'Baptism'," she said. "My sister and I were taken from my mother. My father asked for custody, and the judge when he asked my sister and I who we wanted to live with, we clearly said our mother. The judge explained to us – to a 7 and 8 year old child – that "colored parents", his words, better brought up "colored children". So my mom lost custody of us and we moved in with our dad and stepmom, who didn't love us.
The look will feature a judge's robe with images of Davenport and quilted roses in the robe, a testament to her black and Greek heritage, respectively. Other events in Davenport's life that will be depicted include a time in eighth grade when she was on a 'hit list' for being seen as a black person who acted white and, on a more positive note, the birth of his daughter. The final piece is titled "Freedom" and represents Davenport's acceptance of herself and her daughter's future.
"You can say whatever you want about me as a person," Davenport said. "It doesn't affect me anymore. I think it's freedom. I think it's the freedom where I look at my child and she's in a whole different world, where she will speak immediately. If anyone says anything about a dark or black person my kid will comment very quickly.
Davenport plans to work on the exhibit for most of 2022 with the goal of hosting a fashion show and panel discussion during the fall and presenting the exhibit in February 2023 during History Month. blacks. She hopes to work with the St. Louis Fashion Fund to produce both parts of her project.
"I'm really excited about this and feel blessed," she said. "I felt, for a long time, reduced to silence. That people haven't heard my voice. It's not 100% on these people. I think it's for me too. I think now by working on this exhibition and finding the issues and working on the renderings, the drawings, I'm getting my voice back. This is really what turns me on the most.

Short url: https://blogs.umsl.edu/news/?p=91584