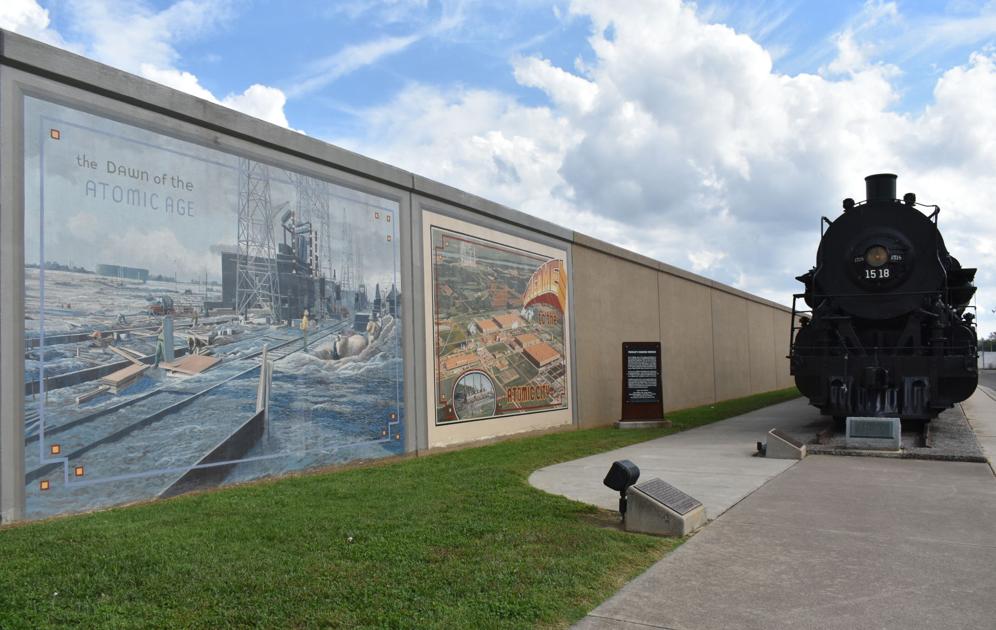 Dafford hands-on mural painting workshop planned | New
[ad_1]
A row of blank panels on Paducah's flood wall – located behind the train – is slated to receive a mural next year, as an intensive art workshop involving famous muralist Robert Dafford is scheduled to take place in Paducah.
The Paducah School of Art and Design at West Kentucky Community and Technical College is now accepting applications for a masterclass on Dafford murals to be held next June, a press release said on Thursday.
It is described as an "introduction to materials, processes and techniques" of Dafford, who, with his team, created the downtown murals by the river. The conference and workshop are scheduled from 8 a.m. to 5 p.m. from June 6 to 18, 2022, in the school's 2D and graphic design building, and on site at the flood wall.
This will be Dafford's first hands-on workshop, according to the press release.
"We are looking to involve both regional artists and artists from across the country with a target of 20 selected participants, regardless of how many applications we receive," PSAD director Paul Aho told the Sun.
Tuition for the workshop is $ 795. Workshop participants will study mural and help with 10 panels of Paducah's wall-to-wall mural project, under supervision. The project started in 1996 and features colorful murals that pay homage to Paducah's past.
"I think this is a unique opportunity for people – not only to learn Robert's techniques, but to actually participate in the legacy of this mural project," said Aho.
The press release also said that Dafford would share his process, with students "applying these lessons to interior wall panels" before moving on to the flood wall, to begin making a map showing a rail system. Dafford and his team will complete the murals.
"They will represent the historic rail lines between Paducah, St. Louis, Memphis and Nashville," Aho said. "It will be more of a graphic than a pictorial rendering, but there will be pictorial type insertions, in the map like little thumbnails, so to speak."
Ro Morse, the director of Paducah Wall to Wall, said they looked forward to this and described it as a partnership between the college and art school, Paducah Wall to Wall, the community and the city.
"We are all working together to make this happen," she told The Sun. "We want to finish this area of ​​three blocks of Dafford murals and it will be like a backdrop behind the train. It will be the history of rail.
Morse said they will do so in memory of the late Bill Schroeder and in honor of Meredith Schroeder, who has supported the project from the start.
"In 2016, during Barbecue on The River, Robert Dafford and (Dafford muralist) Herb Roe sat down and actually did a sketch of what that would look like as a backdrop behind the train, and we had envisioned that. for years before that. , she recalls.
Morse also noted that he always felt like this would be the link, or the "finishing touch," to the three blocks of Dafford murals.
"We always hoped that we could do something where there was interaction with the students being learning, because it won't be as detailed as the other paintings have been," she said.
"So we're going to get creative and talk to the community. (He) has embraced this project so well since it started in 1996 – that we think we can get private sector funding to make it happen.
Accepted participants will enroll through the WKCTC's community education program, and supplies are provided through a partnership with Paducah Wall to Wall, according to the press release. A "limited number" of scholarships will be available to accepted veterans, resident artists of UNESCO Creative Cities, and graduates of the Kentucky Community and Technical College System arts programs.
As for the Flood Wall, Morse predicts that Roe will be back on Monday and stay for about a month. He will take care of maintenance and repaint the 1940s Broadway scene and the telephone mural, while Dafford will join him the first week of November.
"While they're in town, I guess we're going to run into a lot of t's and point's a lot of i's and fundraising for this spring class, because we're going to have to raise a little over $ 100,000 to do- the, "Morse said.
Anyone interested in partnering with Paducah Wall to Wall to help sponsor the project can contact [email protected] or call 270-519-1321.
Follow Kelly Farrell on Twitter, @ KellyAFarrell11
Follow Kelly Farrell on Twitter, @ KellyAFarrell11
[ad_2]