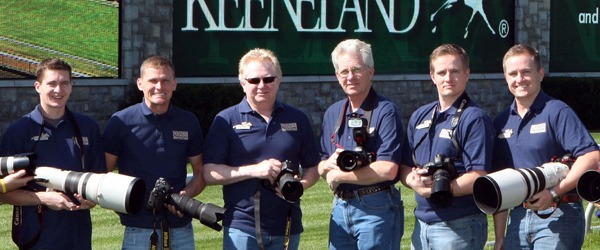 Coady Photography, 60 years of excellence
The Coady clan with full camera gear at Keeneland. Photo courtesy of the Coady family
The company founded by Jack Coady, Sr., in 1962 celebrates 60 years of capturing the splendor of horse racing
By Maribeth Kalinitch
Little did Jack Coady, Sr., know when he moved from Chicago to Arizona in the late 1950s that he was about to create a legacy that would continue into his 60th year.
After working as a funeral director in Chicago, Coady, Sr., decided to try his hand at photography in which he had both an interest and an aptitude.
As there is synchronicity in the world, in 1954 Phoenix visionary Walter Cluer dreamed of building a world-class racing facility on 1400 acres of land he had just purchased from 19th Avenue and Bell. That dream came true on January 7, 1956, when Turf Paradise opened its doors, becoming one of Arizona's first sports franchises.
Coady, Sr., whose interests also included horse racing, got a job as a photographer for the Arizona Republic in 1962. One of his first assignments was to film the races at Turf Paradise. Eventually, Turf Paradise invited Jack, Sr., to be their trail photographer and a family business was born.
Jack, Sr. and his son Jeff traveled to Stampede Park in Canada where Shawn and his brothers were born. "We have dual nationality," Shawn said in an interview with Jim Wells, editor for Cantebury Park.
What was a twist of fate turned into a family affair when sons Jack, Jr. and Jeff joined in the business expansion. The younger Coadys took photos of the winner's circle and managed the timing of the race. They provided video services to other small tracks in the Southwest as the business grew.
In turn, Jeff's sons Shawn, who started with his father at 14, and Kevin and Kurtis, the latter twins, had all joined the family business in the 1990s as it transformed and grew. flourished, and digital technology came into play.
While other photographers were still using film and SLR cameras, Coady stacked the odds in his favor and invested in new digital gear as technology was constantly changing and new purchases were always imminent.
Their gamble paid off big as technology began to plateau and increased capabilities beyond imagination.
In an interview with NDTfrom TD Thornton, Kurtis Coady explains technical capabilities to serve customers.
"Compared to other photographers, we are very data driven. So much so that everything we do is on a server outside of Phoenix that we built ourselves. It's 120 terabytes. And every Coady computer across the country is synced to it.
"So if I'm in Keeneland and an owner walks into the office who just won a horse at Indiana Grand, no problem. I can print these pictures out in two minutes. I programmed our first six generations of sites Web with my dad and Shawn. On our current website we have 250,000 races available for sale. And some of those races have 30 photos posted.
Starting with a small family crew, Coady now has a crew of 50 photographers who shoot between 32 tracks when each has an open meet.
Kurtis and Shawn oversee the large staff, who also share filming responsibilities. Kevin takes care of the accounting while Jack Jr. remains involved as the owner partner.
Coady became the official Oaklawn Park track photographer in 2003. As Oaklawn races became more nationally important and the horses they attracted got bigger and bigger , the photography industry has become more invigorated.
In 2016, Coady would be named the official track photographer for Churchill Downs and the Kentucky Derby, one of the highest honors for their company.
Team Coady would capture undefeated champion Nyquist, become the 142nd Kentucky Derby winner, and go on to photograph Triple Crown winner Justify.
Kurtis Coady would tell TDN that his most satisfying shot came in that Derby.
"The most important photo I've ever taken in my life was Justify [at the 2018 Derby] with the falling rain; the harshest lighting. And everyone on my team succeeded. It looked like it was broad daylight outside. It was beautiful. My shot, the shutter was perfect. I stopped the rain. The background with military personnel standing at attention. Everything in my picture was perfect.
Coady enjoys encouraging others to follow their legacy. Kurtis Coady said TD from TDN, Thornton when asked what advice he would give to aspiring race photographers: "I think the best advice I can give is to come shoot with us. Send me a note saying, "I just want to shoot for the weekend to learn how to get into this." We'll teach you the ins and outs. We like that. We are happy to help you. We want to be there for the horse racing photography community. And it's the same for amateur photographers. If you can really show me that you're dedicated and I feel it, I'll put you on the track right next to me and we can tour together.
Coady also likes to give back. In 2016, they sponsored the first Coady International Amateur Horse Racing Photography Competition, judged by a panel of photojournalism experts.
Jack Sr. (2008) and Jeff (2013) are both deceased, but there is a race named in their honor, the Jeff and Jack Coady, Sr., Stakes, which will be held at Turf Paradise on Saturday November 5th. the second day of the meeting on the opening weekend.
While most of the Coady team will be in Keeneland covering the Breeders' Cup, there will be a family representative in Turf Paradise to document this treasured event.
To view Coady Photography's photography gallery, visit their website at https://coadyphotography.com.
Editor Sidebar: Coady Photography has a logo that I have admired for many years. A black fleur-de-lis with horse heads silhouetted as petals and a gold bow tie in the center. Graphic designer for many years, I appreciate the balance, the symmetry and the color of the logo. Until recently, I had never realized the symbolism of the bow tie, a nod to the fashion sense of the three brothers. If there was an Eclipse award for the design, this one would surely win.
For more information on Past The Wire's annual Breeders' Cup Seminar, Best of the Game CLICK HERE