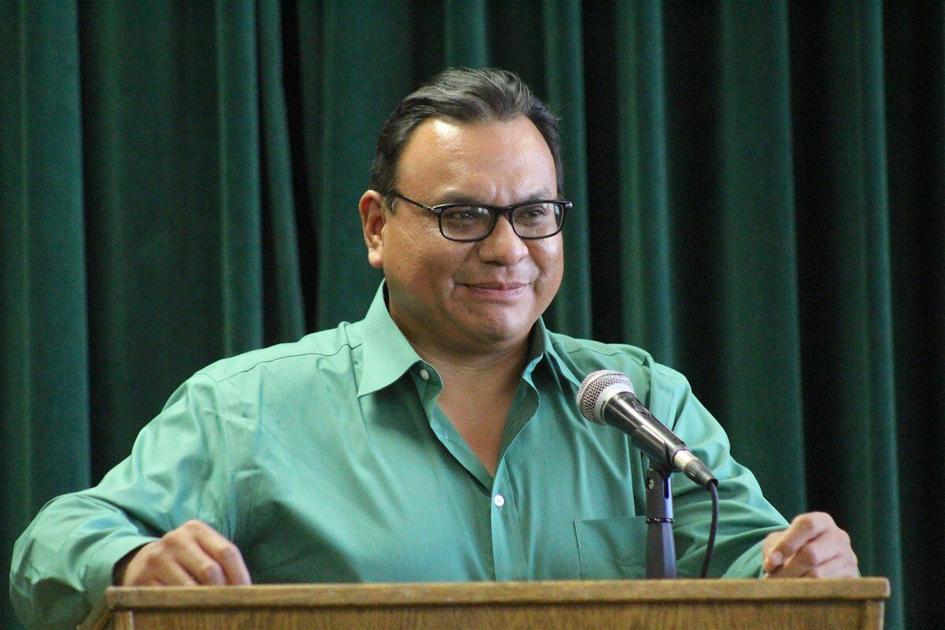 Cherokee artist named Sequoyah Fellow by NSU | New
[ad_1]
Award-winning artist Roy Boney Jr.
The Sequoyah Fellow program offers the NSU and the College of Liberal Arts the opportunity to recognize an outstanding scholar in the field of Native American studies and offers them the opportunity to share their expertise with the NSU community. Boney is the seventh Sequoyah member to be named, after a list of former Cherokees – such as former Cherokee Nation Senior Chief Wilma Mankiller, Cherokee Nation Senior Policy Advisor Dr Neil Morton, and Delegate of the Cherokee Nation in the United States Congress, Kim Teehee.
NSU President Steve Turner said every member is dedicated to improving the lives of others.
"Each of them has made a significant positive contribution to this institution and to our students," he said. "I cannot stress enough how important it is that a seed planted some time ago continues to have a positive impact in 2021."
Boney and Matthew Shepherd created the "Dead Eyes Open" graphic novel series, which Boney also illustrated. He has received numerous artistic awards, including the Grand Prize at the Trail of Tears Art Show at the Cherokee Heritage Center.
Several of his paintings are in the permanent collection of the Sequoyah National Research Center. He is also a writer, has worked on documentaries, and has devoted a significant amount of time to helping revitalize the Indigenous language as the Manager of the Cherokee Nation Language Program.
Boney was featured as an artist, writer, and cover artist in "Tales of the Mighty Code Talkers," which won the American Indian Library Association Children's Literature Award in 2018. Turner said that although Boney had no way of knowing until Wednesday, his work in the graphic novel was in fact viewed and used as a resource for the NSU Veterans Monument and Plaza Committee.
Cherokee Nation Chief of Staff Todd Enlow said Boney was instrumental in bringing the Cherokee language to Apple devices.
"Roy would come in regularly and say, 'We need to install the Cherokee language on iOS so that our kids can communicate in that language after they finish school. We need to. I was like, 'Yeah, you're right. It's a good idea.' And he literally leaned over the desk and said, 'No, we have to do this.' It wasn't until a few months later that we went to Apple, we sat across from them, and within months it was a reality, "Enlow said.
Turner and Enlow thought it appropriate that someone who has dedicated time to protect the Cherokee language be named Sequoyah Fellow, and on the 200th anniversary of Sequoyah's creation of the Cherokee syllabary.
Boney called Sequoyah the ultimate Cherokee scholar because it was his idea to capture people's thoughts on paper. As a result, there are 200 years of Cherokee intellectual thought to study.
"It was around the 1960s that the language's generational decline began to occur," Boney said. "So what we're trying to do now is reverse that. One of the great tools we have for doing this is the Cherokee syllabary. Without Sequoyah's invention, we would be lost.
He grew up with a father who read and spoke Cherokee, and as a child he would often come across the famous image of Sequoyah pointing to a tablet in the syllabary writing system. He drew pictures of Sequoyah and was encouraged to become an Aboriginal artist. At the time, Boney said, he was only familiar with the Native Southwestern art style and "stereotypical tourist art."
"I never liked it," Boney said. "So when I got really interested in Cherokee-themed art, my idea was to take our history and our culture and inject something new into it, in terms of my experience as a Cherokee person. there are gatekeepers who try to define what Cherokee is, be it language, art, culture, history. But that's all up to us. Every Cherokee person, who belongs to us collectively. "
[ad_2]