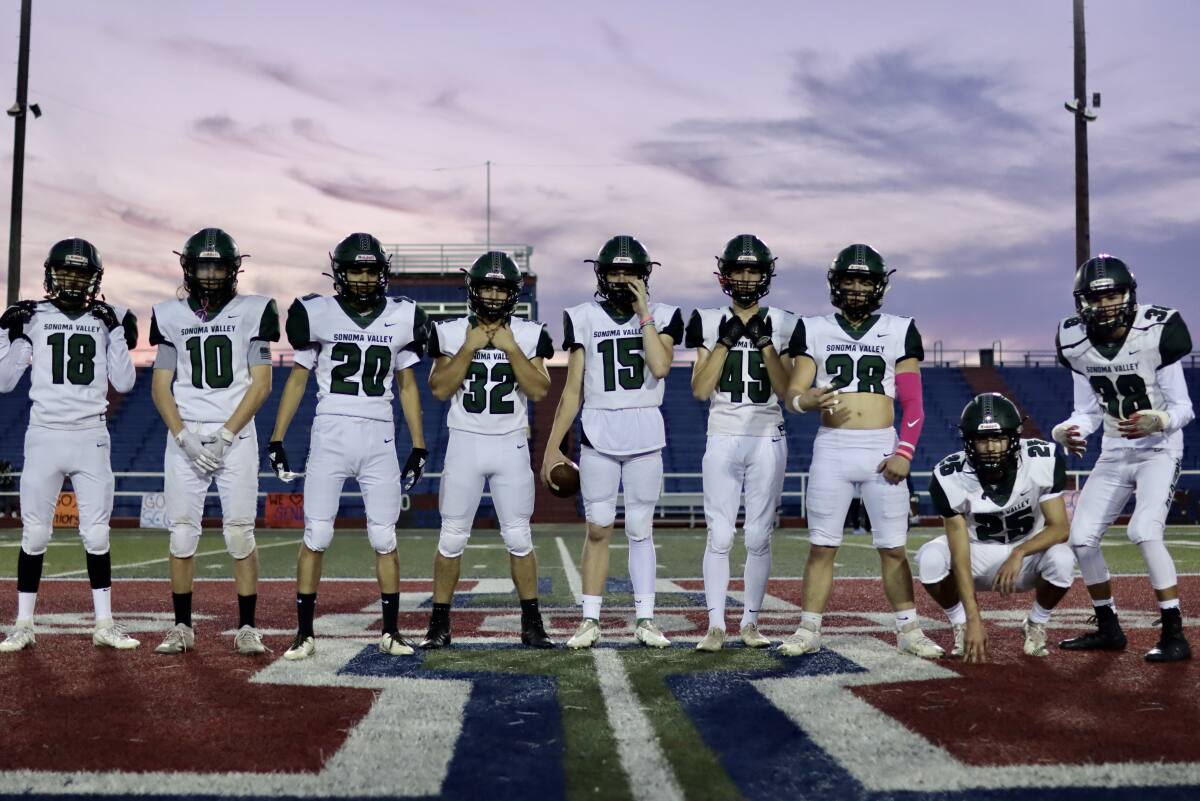 Caya Aronson Joins Computer Student Photographer Program
As a 17-year-old senior at Sonoma Valley High School, Caya Aronson is very busy. Between her college application and taking pictures for the yearbook, she's an active student on campus and a frequent sight on the sports field.
"My favorite thing to shoot is definitely sports," she said. "I love the hype and I love being able to spend time with the team and see all behind the scenes before a game. It's the best feeling to capture the highlights / goals / touchdowns of players and show them off after the game. "
Her photos and video clips are often posted on social media at Sonoma Valley High School, which is how she first appeared on the newspaper's radar.
"We've long been planning to bring back our popular Student Journalists and Photographers program, but the pandemic has made it difficult for us to launch," Writer / Editor Emily Charrier said. "When we saw Caya's work and the consistency of her talent, I had to hire her right away, even before the official relaunch.
Under the program, students are paid to cover issues and events in our city. Aronson will be covering sports and ongoing campus activities (check out his football photos on A5 as well as his Halloween contributions on A8), in addition to his missions through the valley.
"After hiring Caya, I am already blown away, not only by her work, but by her professionalism and responsiveness – she is a real gem right out of our high school," said Charrier.
Aronson is a valley resident who attended Kenwood Elementary School and Altimira Middle School. She's a cinephile to be avoided, which in her youth prompted her to "play" with a camera. When her youth pastor asked her to shoot music videos for a basketball game, she discovered a whole new passion.
"Then I reached out to my video arts teacher, Mr. (Peter) Hansen, to shoot videos for the school and since then I've been filming their sports / events," Aronson said. "After shooting videos, I started taking photos too. I like being able to capture moments and come back to them.
Using a 90D Cannon camera she borrowed from her video class, Aronson became a fixture on the sidelines, chasing the soccer team down the field, in search of those perfect moments.
"My biggest mentor is my video teacher, Mr. Hansen, who gave me a ton of equipment, introduced me to new programs / goals / techniques and brought me so many opportunities", a- she declared. "The best part of being a Dragon is being able to take classes that you are passionate about and having teachers who encourage you. Sonoma Valley High School has given me so many opportunities and surrounded me with so many supportive people.
Next year, Aronson is considering film schools in Southern California, where she would be close to her older sister. Between working on video projects and spending time with friends and family, Aronson said she was excited about the opportunity to take photos for the Index-Tribune.
"I look forward to capturing events and being able to share them with a larger community," she said. "I am so grateful for the opportunity and can't wait to meet new people / tour for the community! "
Contact writer / editor Emily Charrier at [email protected].