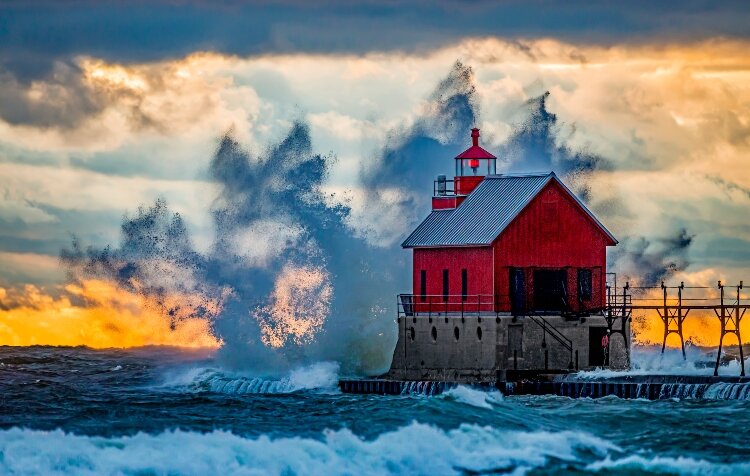 Award Winning Photographer Shares Favorite Lakeshore Images
Outdoor photographer Todd Reed celebrates his lifelong love for Mitten State with his new book, Todd Reed: 50 years seeing Michigan through a lens. Over the years, the award-winning photographer has taken numerous photos of the Lakeshore, from lighthouses to tulips to Coast Guard ships.
During his 33 years in the Coast Guard reserves, Reed was stationed for three years – 2000-02 – at the Dutch Coast Guard station, including during 9/11. During this tenure, he discovered his favorite locations to shoot in Ottawa, Allegan and Muskegon counties.
The edge of the lake checked in with the Ludington-based photographer and photography teacher to learn more about his passion for capturing Michigan in the great outdoors, his favorite places to photograph in our area, what inspires his passion and tips for capturing compelling images.
The Lakeshore: You've taken pictures of Lakeshore and Michigan for most of your life. How attractive is the region compared to exploring other parts of the world?
Todd Reed: I've lived most of my life along the Lakeshore in western Michigan. I know him intimately and love him passionately, from the power and beauty of Lake Michigan and the shore to the wooded trails of our parks and wilderness areas, and the wilds of our rivers. These are all pristine places of boundless beauty. No matter which direction you look or go, it's easy to find scenic, wild, and unspoiled views in Michigan and along the Lakeshore. I don't have to go anywhere else to find so much natural beauty around me.
TL: While you were stationed in Holland with the Coast Guard, what were your favorite places to photograph?
TR: In Holland, I loved photographing tulips and I still do. I loved seeing Holland's lighthouse, "Big Red", and taking a picture of it when I was not on duty. I also continue to be drawn to the pier and lighthouses in Grand Haven, especially to photograph them during storms. In Saugatuck, my favorite place to photograph is Saugatuck Dunes along Lake Michigan.
TL: People are taking more pictures than ever now that they always have their phones with them. Do you have any tips for people using their phones to take photos?
TR: If you're into photography, invest in one of the best quality cameras you can afford. Fill the viewfinder with everything you want and everything you don't want. And don't forget to enjoy safe outdoor photography; no photo is worth your life.
TL: You've been teaching people for years how to take pictures. What's the best piece of advice you share with them?
TR: Shoot, then get a lot closer and shoot again. Photograph what you think you want to include in your shot, then film part of that scene, then film part of that part. Your photography will improve instantly. Also track your heart with your camera. Ask yourself, "What turns me on enough to take this picture?" Answer this question, then highlight it with the position and technique of your camera.
TL: Why do you think your passion for photography has only grown over the years?
TR: I am a visual person. I have always liked to see the world around me. My passion for the past 50 years has been to see the world in pictures, whether or not I have a camera at eye level. I keep trying to see better; I know I can't wait to do it until I die.
TL: What is the greatest attraction of Lakeshore for you?
TR: The power and beauty of the shores of Lake Michigan attracts me like nothing else. Trying to capture a magical moment with my camera in the teeth of the towering waves of Lake Michigan and hurricane force winds is my favorite adrenaline rush experience.